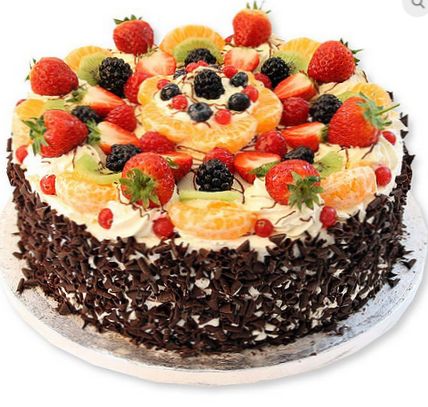 This gateau was so delicious!  It's ideal for a No Count dinner party and is just 1 point per slice on No Count.  I haven't worked out the points if tracking as it would be fewer points to use self-raising flour and Flora light instead of the Ready Brek and olive oil.
This is one of the recipes I trialled while I was in Devon at the end of October.  I really wanted to make a black forest gateau but my online shopping delivery brought a pack of forests fruits as an alternative to cherries and I couldn't find cherries anywhere.  However, you could substitute the forest fruits for cherries if you wanted to make a black forest gateau instead.
Ingredients (serves 8 – 10):
200g Ready Brek
4 flat tbsp Splenda
1 heaped tsp baking powder
1 heaped tsp cinnamon
62g cocoa powder
32g Flora light, melted (4g per person is free)
3 tbsp olive oil (out of daily allowance)
2 tsp vanilla extract
4 eggs
200ml skimmed milk
For the filling and topping:
500g 0% fat Greek yogurt (I used 'Total') or you could use Skyr natural yogurt.
400g frozen summer fruits
1 flat tbsp Splenda
1 tbsp sugar-free Myprotein maple syrup
a jar of No Count jam – see lovingnocount.com/no-count-jam/ – you can choose the flavour you would like to make.
Method:
Pre-heat the oven to 170C.
In a bowl, mix the Ready Brek, 4 flat tbsp Splenda, baking powder, cinnamon and cocoa powder.
In a separate bowl, mix the milk, vanilla extract, Flora, olive oil and eggs. Pour this mixture into the other bowl and mix.
Pour the mixture into a round cake tin – I used a silicone one which was 20cm in diameter.
Place in the oven and bake for 35 – 40 mins.
Once cooked, allow the cake to cool for ten minutes before turning out onto a wire rack to cool completely.
While the cake is cooling, make the topping. Put the frozen summer fruits in a pan with a tbsp of water, a flat tbsp Splenda and a tbsp. sugar-free maple syrup.
Bring to a simmer, stirring all the time and allow to simmer for about 5 minutes until the liquid becomes sticky. Leave in the pan to cool and completely defrost.
Once the cake has cooled, cut it into three pieces horizontally.
Place the bottom piece on a plate and spread No Count jam over it.
Then spread some of the 0% Greek yogurt over the jam. (You can mix the yogurt with some sugar-free syrup if you prefer a sweeter taste.)
Next spread jam and yogurt on the middle piece of cake before placing it on top of the first piece.
Finally, place the last piece on top and cover with the summer fruits.
It is best served immediately – it is rather tricky to cut that first slice but it tastes soooo good! Enjoy!
(You can keep any leftover gateau in the fridge for up to 2 days.)