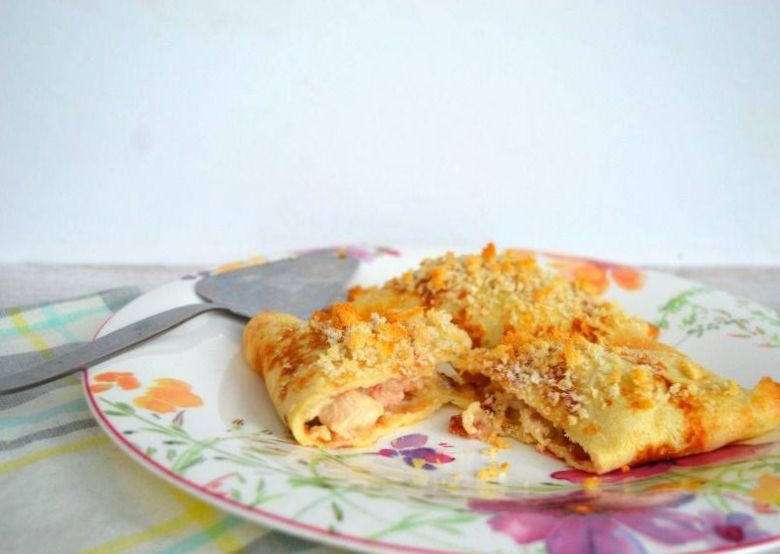 I made these for tea last night and they were absolutely delicious!  Just 1 point each on No Count!
Ingredients (makes 4):
100g oats, blitzed in food processor
4 eggs
650ml skimmed milk
2 hot, cooked chicken breasts, chopped into small pieces
4 bacon medallions
1 onion, finely chopped
6 mushrooms, sliced
2 flat tbsp plain flour (4 points)
a handful of parsley, chopped
a slice of Warburtons medium wholemeal bread, blitzed into breadcrumbs
Method:
Make the pancakes first.
Whisk 3 of the eggs and 300ml of the milk together and pour into the oats.
Whisk all the mixture together.
Spray Frylight into a frying pan and pour in some of the mixture to cover the bottom of the pan.
Turn once while cooking (it can take a while to get the hang of this).
As you make each pancake, leave it on a plate to cool.
Now for the filling: spray a wok/deep frying pan with Frylight and cook the onion for 5 mins.
Add the mushrooms and bacon medallions and cook until the bacon is cooked.
Stir in the flour and then pour in the remaining 350ml milk, a little at a time. Keep stirring in order to make a smooth sauce.
Add the parsley and chicken, season well and allow this to simmer for a couple of minutes.
Take off the heat and allow to cool down a bit.
Meanwhile, whisk the remaining egg and brush round the outside of each pancake.
Divide the chicken and bacon mixture between the pancakes.
Fold the pancakes over and press the edges to seal.
Brush the top of each pancake with the remaining egg mixture and sprinkle the breadcrumbs over the top.
Bake in the oven at 180C for 20 minutes.
Served here with new potatoes and baked beans, although it didn't need the potatoes – it was filling enough without them!