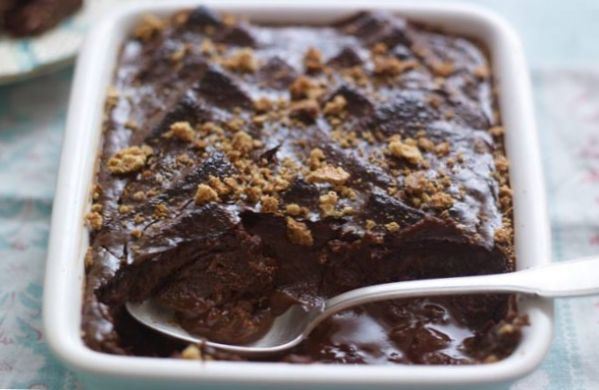 I've adapted a recipe in the WW Bakes book to make this pudding just 2sp on No Count.  It is absolutely divine and well worth trying – as are all the recipes!  The book's a great buy!
Ingredients (serves 6):
6 slices of Hovis wholemeal medium-sliced bread, lightly toasted
20g Flora light (or any other spread that is 1 point for 10g)
3 eggs
200ml unsweetened almond milk
a tbsp of sugar-free syrup (I use the MyProtein one, available online)
a tsp of vanilla extract
18g of Cadbury Highlights (3g per person is free)
18g cocoa powder
25g chocolate chips (I used milk ones)
12g flaked almonds (2g per person is free)
Method:
Preheat the oven to 160C.
Spread the Flora on the toast, cut the slices in half and arrange them in an ovenproof dish.
Whisk together the eggs, milk, Highlights, cocoa powder, sugar-free syrup and vanilla extract.
Pour this over the toast and leave to soak for 5 minutes.
Sprinkle over the chocolate chips and flaked almonds and bake for 30 minutes.
I served it warm with a selection of fruit and Total 0% yogurt.
Enjoy!
(It was also great heated up in the microwave the next day.)
You could make this dessert for 1 point per portion if you chose to leave out the Flora light and only used 15g of chocolate chips.