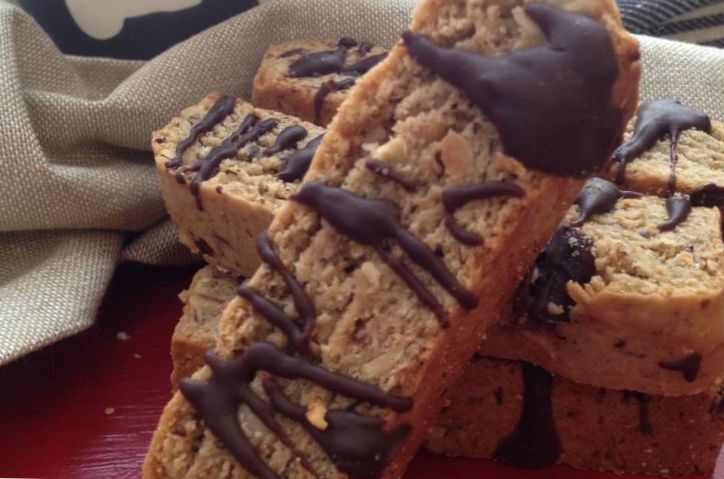 Here's another variation on Mandy's original 'Blondies' recipe.  They are two for 1sp on No Count and if following WW Freestyle, they are 1sp each or 2 for 3sp. A fab snack or great as a dessert with fruit and natural yogurt.
Ingredients (makes 10):
50g ready oats (eg: Asda Ready Oats/Ready Brek)
10g self-raising flour
1 tbsp sugar-free maple syrup (or other sugar-free syrup)
1 tsp nutmeg
1tsp baking powder
1tsp vanilla extract
3 medium eggs
2 ripe bananas
50g low fat natural yoghurt (use fat free on WW Flex)
a pinch of salt
20g chopped hazelnuts (2g per person is free)
4 fresh figs, peeled and chopped into small pieces
Method
Mash the bananas and beat well with the egg yolks, sugar-free syrup, vanilla extract and yoghurt.
Lightly whisk the egg white and fold in.
Add the oats, flour, baking powder, nutmeg and salt and mix well.
Stir in the hazelnuts and figs.
Pour into a greaseproof papered brownie tin.
Bake on 180C for 15 – 20 mins.
Allow to cool in the brownie tin and cut into portions.
Enjoy!
Serving suggestion:
This dessert uses two of the 'blondies', making it 1sp on No Count or 3sp if following WW Flex: Total 0% Greek yogurt with a squirt of sugar-free maple syrup and strawberries complement the 'blondies' perfectly.