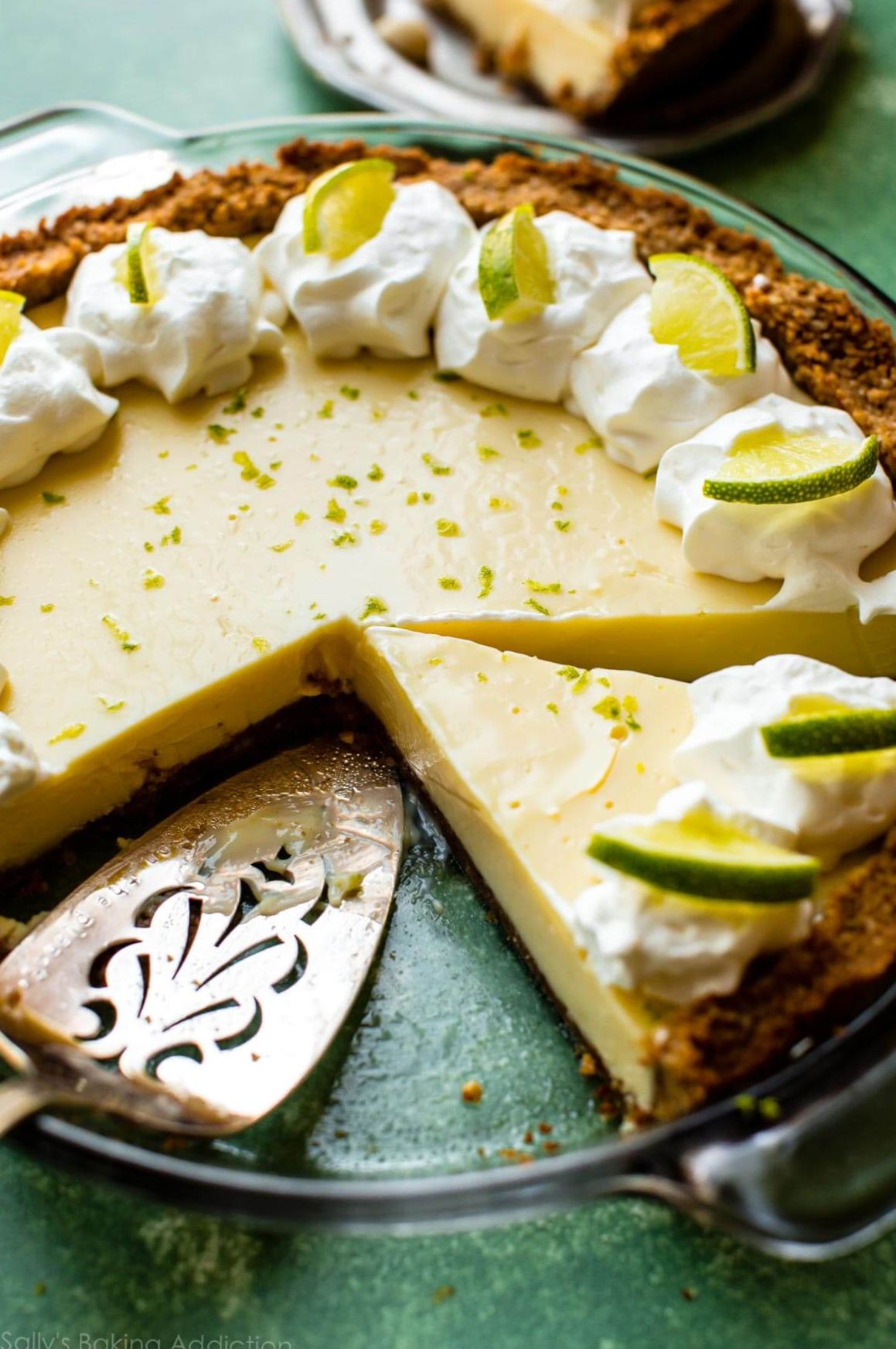 This is a very rich dessert, ideal for a dinner party when just a small slice is needed.  I had an eighth of the pie which was plenty but it works out at 1.5 points so I counted it as 2 of my weeklies.  (You could have a sixth of the pie for 2 points.)
Ingredients (serves 6 or 8):
300g oats, blitzed in food processor
a pinch of salt
4 flat tbsp Splenda
80g Flora light (8 points)
¾ pint skimmed milk
a vanilla pod
3 egg yolks
2 flat tbsp cornflour (4 points)
400g Yeo Valley 0% crème fraiche or Skyr natural yogurt
4 limes
Method:
Heat the oven to 190C and make the base first.
Mix the oats, salt and 2 flat tbsp Splenda before rubbing in the Flora.
Add 6 tbsp cold water and knead into a ball.
Using your hands, press the mixture into a round cake tin that has a removable bottom. Mould it so that there is an edge all the way round.
Cook for 20 mins and then leave this base to cool.
Meanwhile, heat the milk with the vanilla pod until just boiling.
Mix together the egg yolks, 1 flat tbsp cornflour and 2 flat tbsp Splenda.
Pour over the milk and stir well.
Remove the vanilla pod and strain the mixture back to a clean saucepan.
Mix the remaining flat tbsp cornflour with a bit of water and pour into the mixture. Heat gently, stirring continuously, until the sauce thickens.
Pour the mixture into a bowl and leave to cool. Once cooled, add 300g of the crème fraiche or yogurt, the juice of 1 lime and the zest of 2 limes.  Mix gently.
Pour this mixture into the cooled base and use a spoon to level it off, grate the zest of another lime on top and put into the fridge to set.
Use the remaining crème fraiche/yogurt and lime to decorate just before serving.