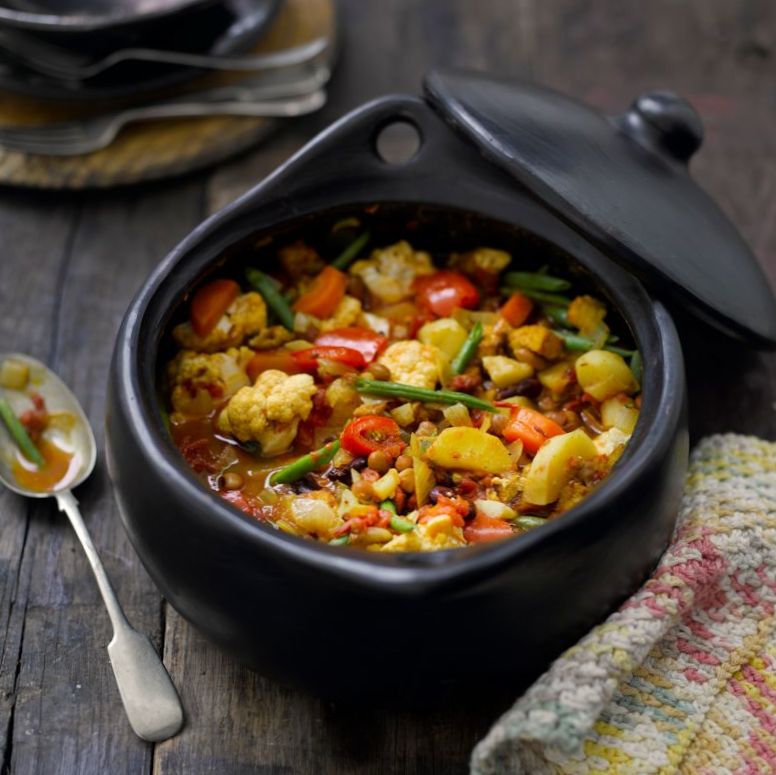 Ingredients (serves 3 or 4):
2 medium/1 large onion (peeled and chopped)

sweet red pepper (de-seeded and chopped)

red chilli; de-seeded and chopped for a milder chilli but I use 2 home-grown ones I have frozen. I chop then frozen including the seeds for a hotter chilli. You can use chilli flakes though; I use half a teaspoon

2 garlic cloves, peeled and sliced

spray oil or a tbsp olive or rapeseed oil from your daily allowance; if you spray you may have to add a little water to stop sticking

tsp ground coriander

tin each of chopped tomatoes, red kidney beans and green lentils

fresh or frozen coriander

plain soya yogurt ( or milk yogurt for a veggie version) to serve
Method:
Fry the onion, chilli, pepper and garlic for 15-20 minutes – do this gently with the lid on a large pan. You want soft-cooked but not brown veg. If you have healthy oil left from your allowance use that, if not spray and water is fine.

Add ground coriander, tomatoes, beans and lentils, and simmer for 10 minutes.

Variations

Try different beans – I have used cans of mixed beans and cannellini. Add a small tin of baked beans for a thicker sauce, to eek it out add a tin of cherry tomatoes – the possibilities are endless! ( I have been making this for years, it's basically what I have in!!)

To serve

Stir in and garnish with fresh, or frozen coriander and a dollop of yogurt. I use 60g (dry) brown basmati rice per person or a baked potato.

This freezes well – my 'boys' (both meat eaters) love️ it. Enjoy!