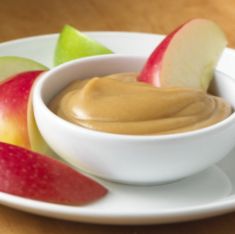 These are delicious but rather filling so might be a better dessert after a light meal or salad.  They are free on No Count and 4 points each if tracking.
Ingredients (makes 4):
100g oats, blitzed in food processor
4 eggs
300ml skimmed milk
5 apples, peeled and chopped
20g PB2 powder (5g per person is free)
1 tsp mixed spice
1 tsp Splenda
half a slice of Warburton's wholemeal bread (or other No Count bread), blitzed into breadcrumbs
Method:
Whisk 3 eggs and the milk together, pour in the oats and whisk.
Spray Frylight into a frying pan and pour in a quarter of the mixture to cover the bottom of the pan.
Turn once while cooking (it can take a while to get the hang of this).
Cook all four pancakes and leave them to cool.
Meanwhile, cook the apples in a pan with a small amount of water for 5 minutes. Drain the water and put the apples into a bowl.  Add the PB2 powder and mix in.
Pre-heat the oven to 170C.
Mix the breadcrumbs with the Splenda and mixed spice in another bowl.
Whisk the remaining egg in a further bowl.
Now brush egg all the way round a pancake. Put a quarter of the apple mixture onto one half of the pancake and fold the other half on top.  Brush the top with the egg and sprinkle the breadcrumb mixture on top.
Do this for the remaining three pancakes.
Put the pancakes on a baking tray and cook in the oven for 10 – 15 mins.
They can be served with Skyr natural yogurt, low fat natural yogurt, 0% Yeo Valley crème fraiche or an accompaniment of your choice.  Enjoy!
A few photos to show the preparation stages: