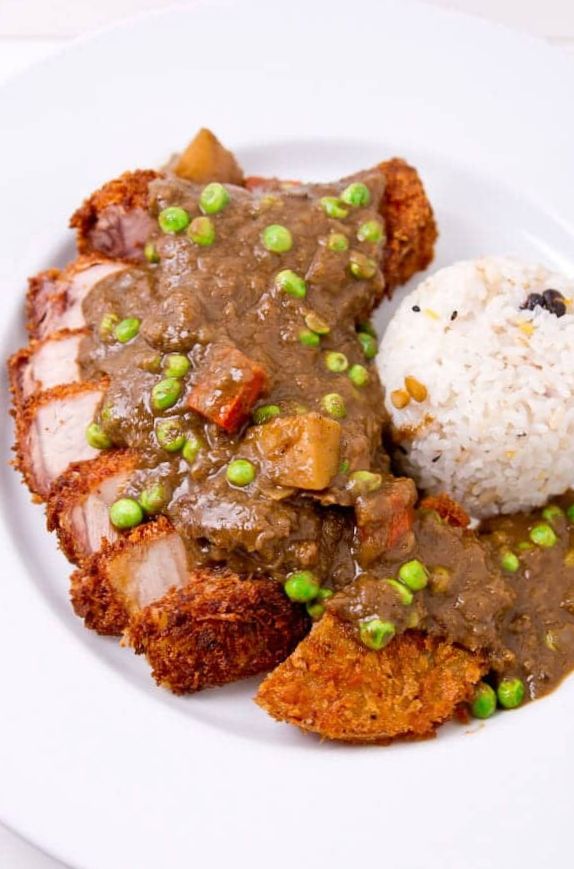 This is the first time I've ever made a katsu curry and I wish I hadn't left it as long: it's absolutely delicious!  I have amended the SpiceNtice recipe, ever so slightly, to make this free on No Count.  The meal would be 6sp on WW Freestyle (including the rice).
Ingredients (serves 4):
4 chicken breasts
2 medium onions, chopped
2 medium carrots, chopped
3 cloves of garlic, crushed
1 large egg, beaten
600ml chicken stock (use one stock cube to make it)
2 tbsp soy sauce
1 tsp Splenda (or other sweetener)
20g plain flour
1 slice Hovis medium wholemeal (or other NC bread), blitzed into breadcrumbs]
1 tbsp olive oil (use Frylight if following WW Freestyle)
SpiceNtice Katsu Curry spice sachet
Method:
Place the chicken breasts in cling film and flatten with a rolling pin.  Preheat the oven to 180C.
Heat the oil in a wok/deep frying pan.  Add the onions and carrots and cook for 5 – 10 mins.
Add the garlic and cook for a further minute.
Stir in the flour, soy sauce, Splenda and stock.
Add the SpiceNtice sachet and bring to the boil.
While waiting, dip the chicken breasts in the egg and then coat in breadcrumbs.  Lay on a baking tray and spray with Frylight.
Simmer the sauce for 20 minutes before blitzing with a hand blender for a smooth consistency.
Put the chicken in the oven and cook for about 25 minutes until the chicken is cooked through.
Slice the chicken breast diagonally and serve with 50g brown rice.  Drizzle the Katu sauce over and enjoy!
You can get 20% off all SpiceNtice orders by using the code HH20 at the checkout.  View: www.spicentice.com