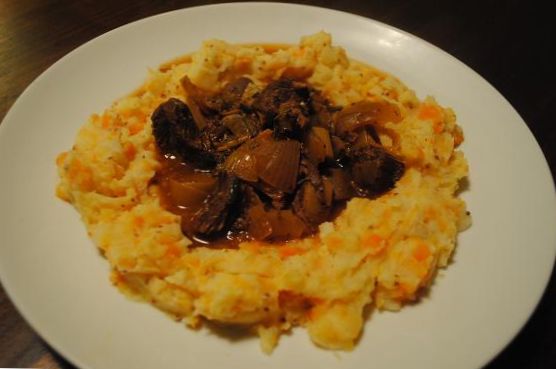 A delicious winter-warmer recipe!
Just 1 point per person on No Count (for the Bisto).  If tracking, you would need to track the beef used as it varies from 4 to 7 points.  You would then just need to add a further point for the Bisto and weigh and track any potatoes used.
Ingredients (serves 2):
two beef steaks
3 pieces of celery
8 mushrooms
2 carrots
2 parsnips
1 courgette
1 onion
2 bay leaves
a tsp mixed herbs
2 heaped tsp wholegrain mustard
2 heaped tsp Bisto
Method:
Chop up all the vegetables and put in the slow cooker.
Add the beef steaks and season.
Add the mixed herbs and bay leaves.
Mix the Bisto into a paste with a small amount of water.
Gradually pour 200ml water into the paste, mixing all the time.
Add the wholegrain mustard to this mixture and stir.
Pour the mixture over the beef and veg.
My slow cooker is not that slow! So I cook this for about 4 or 5 hours on Low.  You can add more water if the gravy thickens too much or add a bit more Bisto if it's not thick enough.
It can be served with oven-roasted potatoes (sprayed with Frylight and sprinkled with salt) or mashed potatoes (with skimmed milk and a tbsp 0% Yeo Valley creme fraiche).