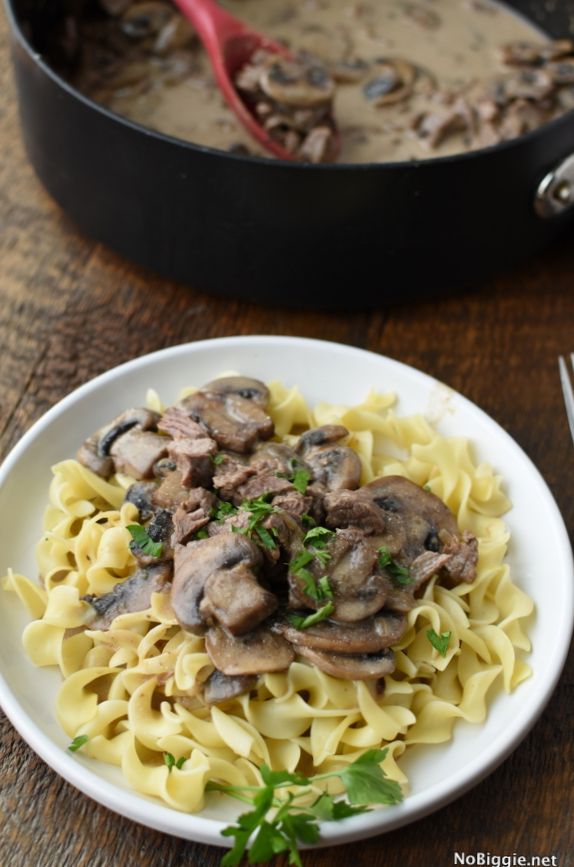 This is an old favourite of mine and absolutely delicious!  The whole meal is free on No Count.  If tracking, the sauce would be just 1 point.  The points for the beef would vary as it depends which you buy – different types of beef range from 4 to 7 points on the app.  You would also need to weigh and track the potatoes/rice you served with it.
Ingredients (serves 4):
4 beef medallion steaks, sliced into strips
an onion, finely sliced
100g button mushrooms, sliced
2 crushed cloves of garlic
400ml beef stock
40g tomato puree
2 tsp Dijon mustard
1 tsp dried thyme
1 tsp paprika
a tbsp Worcestershire sauce
a tbsp balsamic vinegar
3 tbsps low fat natural yogurt (at room temperature)
Method:
Spray a frying pan/wok with Frylight and fry the beef until it is sealed. Set the beef to one side on a plate.
Add the thyme to the beef stock.
Add the onions, garlic and mushrooms and a couple of tbsp of stock to the frying pan/wok. Cook on a high heat and keep adding a bit more of the stock and stirring.  Continue until about a quarter of the stock remains.
Return the beef to the pan, along with the rest of the stock, the Worcestershire sauce, balsamic vinegar, tomato puree, paprika and mustard.
Simmer for about another ten minutes until the sauce has thickened: remove from the heat and stir in the yogurt.
Served here with 50g brown rice and asparagus.
This can also be cooked in the slow cooker – just stir the yogurt in at the end: