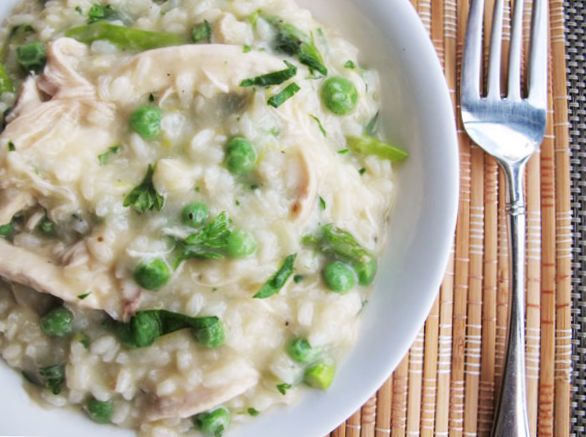 Wow! I loved this! Great flavours and all free on No Count!  If following WW Freestyle, use Frylight (or an alternative) instead of olive oil and it would just be 5sp for the rice.
Ingredients (serves 2):
2 chicken breasts, cut into chunks
500ml chicken stock
a tbsp olive oil (from daily allowance)
an onion, finely chopped
a tsp mixed herbs
100g brown rice
rind of one lemon, grated
juice of one lemon
50g Eatlean protein cheese, grated (26g per person is free) – available from Tesco, Morrisons, Waitrose or online
60g rocket
50g asparagus, cut each stalk into three
Method:
Heat the oil in a pan and cook the onion for a couple of minutes.
Stir in the rice, lemon juice, lemon rind and mixed herbs, and then add the stock and bring to the boil.
Leave to simmer for 30 minutes.
Meanwhile, cook the chicken pieces in a wok/deep frying pan sprayed with Frylight.
Add the rice to the chicken, and stir in the asparagus.
Season to taste and cook for a further 5 minutes.
Remove the risotto from the heat and stir in half the protein cheese and all of the rocket.
Serve and sprinkle over the remainder of the cheese.
Enjoy!