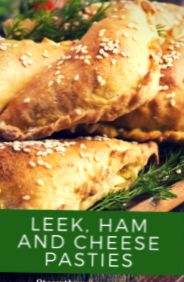 As the Salmon en Croute recipe was so popular, I thought I'd try a different filling in a WW wrap. This is very tasty too and I hope you enjoy it if you decide to give it a go. Each pasty is free on No Count. If following WW Freestyle, they would be 5 points each plus the points for the gammon you used.
Ingredients (makes 4):
a small gammon joint, cooked and shredded
2 medium leeks, sliced
200g 0% Yeo Valley crème fraiche
2 heaped tsp wholegrain mustard
1 tbsp olive oil (use Frylight if following Ww Flex)
4 Weight Watchers wraps
1 egg, beaten
Method:
Make sure the gammon joint is cooked and shredded.
Pre-heat the oven to 180C.
Heat the oil in a pan and cook the leeks for about 5 minutes until they are soft.
Place the crème fraiche in a bowl and stir in the mustard. Season to taste.
Pour the leeks into this mixture and stir in.
Put the wraps on a plate/board and brush egg all the way round the circumference of each one.
Divide the crème fraiche mixture between the 4 wraps and then add gammon to each one. (Make sure that you can still fold the wrap over and close it.)
Once you have folded each wrap over, press all the way round the edge with a fork to keep the edges together.
Brush each wrap with the remaining egg.
Place the wraps on a non-stick baking tray and cook in the oven for 20 minutes.
Serve and enjoy!
Served here with a small baked potato, baby sweetcorn and broccoli. I didn't manage to eat all of the potato as the pasty was very filling