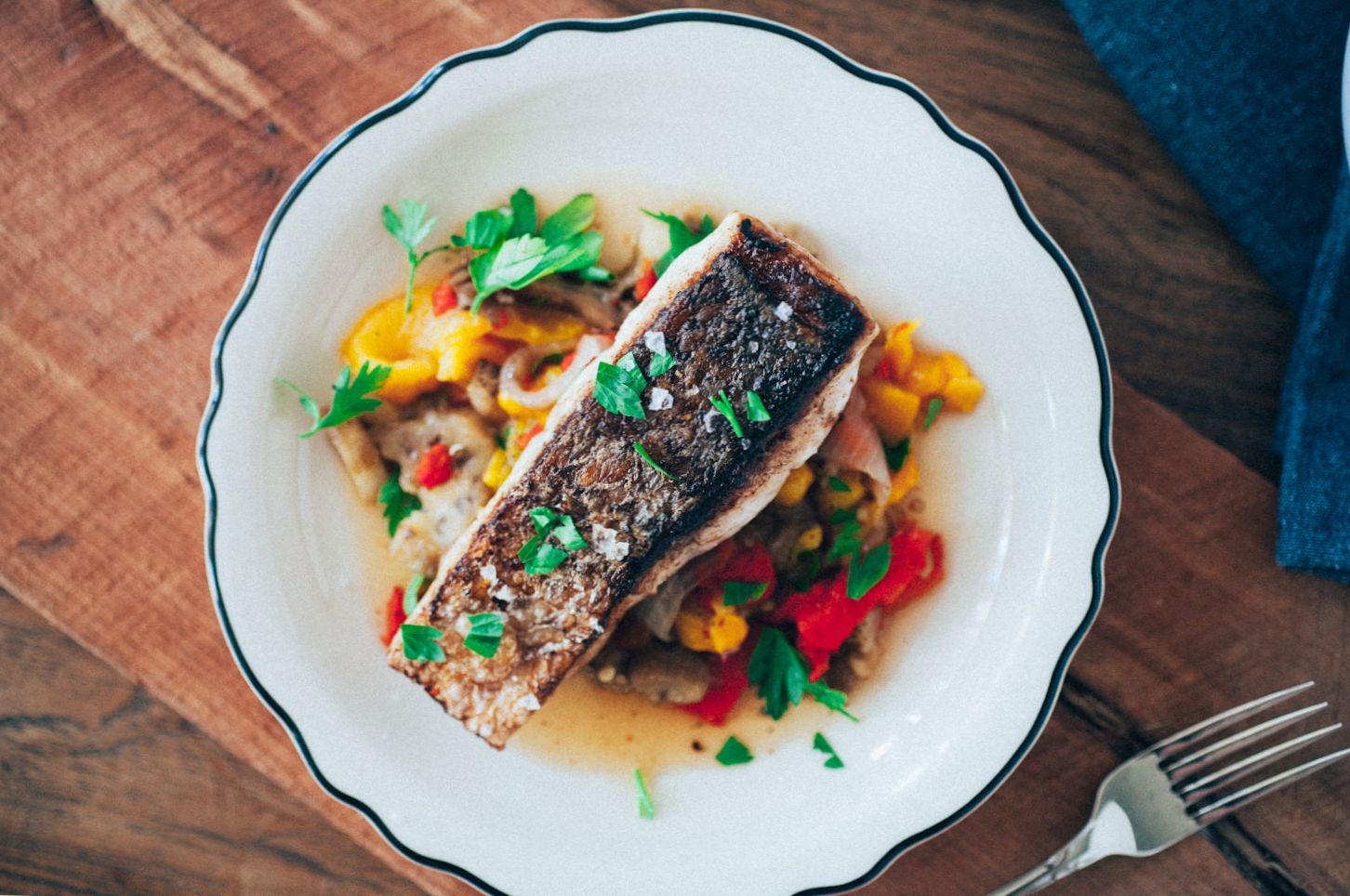 A big thank you to Mands (@mands5781) for letting me publish this recipe on the website.  This dish is full of flavour and comes highly recommended.  It is 1 point per person on No Count and 3 points if tracking.
Ingredients (serves 2):
For the vegetables:
1 spray (1/2 tsp) olive oil
2 shallots, sliced into rounds
1 clove garlic, finely sliced
1/2 red pepper
1 sprig rosemary
black pepper
7g tomato puree (Bomba Umami brand if you can find it- it's an excellent rounded flavour!)
5g olive tapenade
5 large black olives (whole)
4 basil leaves
handful samphire
a good squeeze of lemon juice
these together will count for 1sp
180g (2 fillets) sea bass
black pepper and lemon juice
1 potato, sliced into rounds
1 courgette, sliced into rounds
Method:
Gently cook the shallots and garlic until soft and lightly browned.
Add tomato purée, herbs and black pepper, and a little water to keep from sticking. Add the red pepper and cook until soft – keep adding little splashes of water if you need to.
Once the pepper is soft, add the samphire, basil leaves and lemon juice. Mix in and leave covered off the heat so as not to overcook the samphire.
Meanwhile, cook your potato slices and courgettes in the airfryer (or bake in the oven until golden).
Finally, spray a griddle pan or frying pan with olive oil and, when hot, place the sea bass fillets skin side down. Leave skin side down for as long as possible until the fish is cooked through – resist the temptation to turn it – this will break the fish and you won't get a nice crispy skin which is one of the best parts of having sea bass!!
When the fish has changed from translucent to opaque, season with black pepper, flip for a final 10seconds and, once plated, drizzle with fresh lemon juice.
Enjoy!