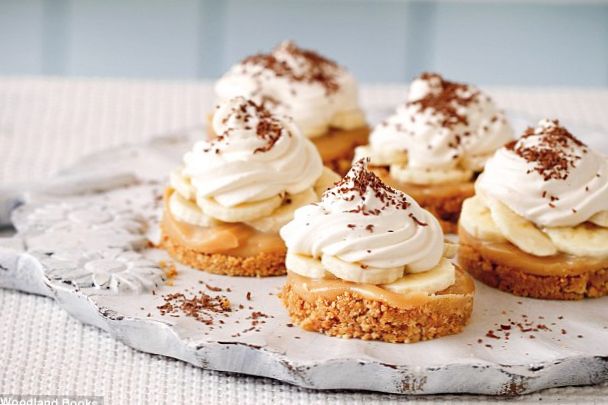 This is my favourite dessert at the moment – a real refreshing treat at just 1 point each on No Count! They are 5sp each if following WW Freestyle.
(This recipe can now be made for 0sp on No Count by using 2 tbsp olive oil instead of the Flora light.)
Ingredients (makes 4):
150g oats
40g Flora light (4 points)
1 flat tbsp Splenda
4 tbsp skimmed milk
2 bananas
2 tbsp sugar-free Myprotein butterscotch syrup
200g 0% Yeo Valley crème fraiche, Skyr natural yogurt or quark
coffee for decoration
Method:
Preheat the oven to 180C.
Mix the oats and Splenda together before rubbing in the Flora with your fingers.
Add the milk and mix into the oat mixture.
Squash the mixture into four balls (it is quite sticky at this stage) and place into 4 bottomless metal rings on a baking tray (see picture below). Use hands to squash the ball shapes down to fill the base in each ring.
Bake for 15 – 20 mins before taking out of the oven and allowing to cool – keep the metal rings in place.
Mash the banana and mix with 1 tbsp of the sugar-free syrup. Place this on top of the base in the four rings.
Add the crème fraiche, Skyr natural yogurt or quark, mixed with a tbsp of the sugar-free syrup, on the layer of banana and put in the fridge to cool.
Sprinkle the top lightly with coffee just before serving.
Enjoy!
These are the metal rings I use: