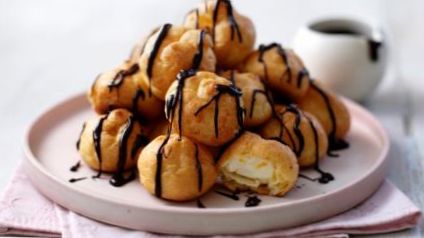 It's a while since I've made any new desserts as I've been too busy enjoying those that are already on the website.  But I couldn't resist trying this one – and what a yummy, chocolatey dessert it makes!  They are 1sp each on No Count or you can have two for 3sp.  If following WW Freestyle, they are 2sp each and two of them would be 5sp.
Ingredients (makes 6):
60g oats, blitzed in a food processor (see note at the bottom of the page)
40g Flora light
2 eggs, lightly beaten
170g 0% Total yogurt
1 tsp vanilla extract
an 11g sachet of Cadbury's Highlights
Sweet Freedom choc shot
Method:
Heat the oven to 180C.
Put the Flora and 85ml water in a saucepan and bring to the boil.
Remove from the heat and add the oats, stirring them in quickly.
Put to one side to cool for 10 mins then beat in the eggs, a little at a time. You may need to use an electric whisk to get rid of any lumps.
Use a silicone muffin mould with six holes – divide the mixture between these.
Bake for 20 mins, until they are golden on top.
Once the mixture is baked, turn off the oven, prick each profiterole with a skewer and return to the oven with the door ajar. Leave them to dry and cool for 45 mins.
Make up the filling by mixing the 0% Total yogurt with the vanilla extract and sachet of Cadbury's Highlights.
Only make the profiteroles up when you are ready to serve them.
Slice each one in half before dividing the filling between them.
Top each one with a tsp of Choc Shot.
Enjoy!
Please note: if you blitz the oats until they are flour, they are supposed to be pointed on No Count.  But if you 'grind' them (just blitz them a bit) then you don't have to point them.