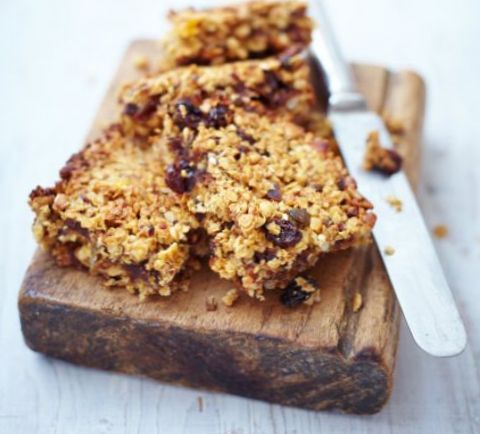 This recipe comes in at 16 points so if you make 8 flapjacks, they will be 2 points each on No Count.
If counting, the recipe comes in at about 41 points, so you could make 10 flapjacks for 4 points each.
Ingredients (makes 8 or 10):
100g oats, blitzed in food processor
150g oats
40g currants (6 points)
1 bag of M&S Guilt-free Snacking Sweet and Salty Popcorn (from multi-pack) (2 points)
80g Flora light (8 points)
6 tbsp Myprotein sugar-free butterscotch syrup
2 tbsp lemon juice
1 or 2 apples, peeled and cut into small pieces
1 tsp ginger
Method:
Pre-heat the oven to 180C.
Mix the oats, blitzed oats and ginger in a bowl.
Add the Flora and rub in with fingertips.
Add apple, currants and popcorn, and mix.
Finally, add the sugar-free syrup and lemon juice and mix.
Press the mixture into a baking tray – I used one that was 24cm x 18cm but it wasn't quite big enough to hold all the mixture.
Bake for 20 minutes.
Take out of the oven and cut into the number of slices you require.
Leave to cool in the baking tray before taking out.
You could use 2 bags of the popcorn if you wanted to and cut out 9 flapjacks so that they are still 2 points each (on No Count).