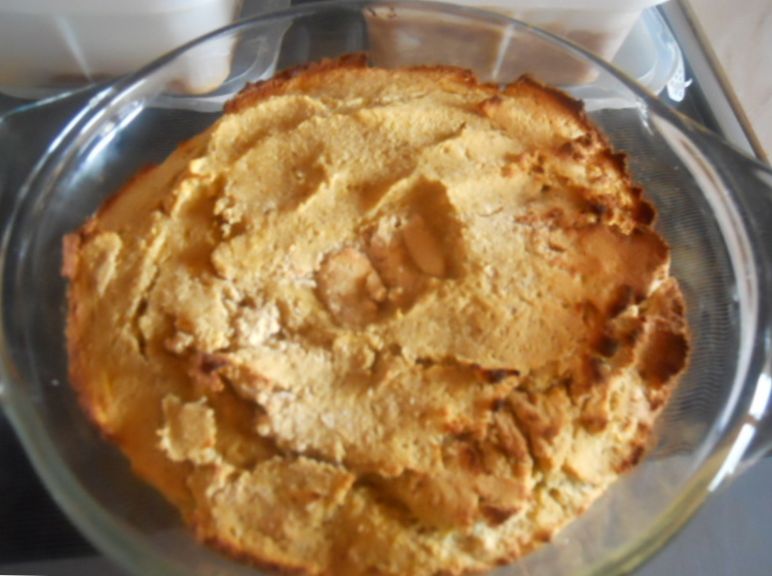 A variation on last week's chocolate pudding, although I did make this one first.  This is now my 'go to' pudding if I feel like something sweet as it's just so quick and easy to make.  It is free on No Count or 4 points if tracking. (If tracking, use 40g Flora light, melted, instead of the 16g Flora and olive oil.)
Ingredients (serves 4):
2 bananas, cut into slices
a tbsp Myprotein sugar-free maple syrup
a flat tbsp Splenda/Canderel/Truvia
16g Flora light, melted (4g per person is free)
1 tbsp olive oil
2 eggs
1 tsp baking powder
5 tbsp skimmed milk
100g Ready Brek
1 tsp vanilla extract
Method:
Pre-heat the oven to 180C.
Put the banana into 4 small bowls or one large bowl and pour the sugar-free syrup over the top.
Put the Ready Brek, Splenda and baking powder into a bowl and mix.
In a separate bowl, add the Flora, olive oil, eggs, milk and vanilla extract and whisk. Then pour this mixture into the Ready Brek mixture and stir until the consistency is smooth.  (You may need another tbsp milk.)
Spoon this mixture over the bananas.
Bake in the oven for about 20 minutes. Enjoy!
Served here with Skyr natural yogurt.
(I have kept these puddings in the fridge for up to two days before warming them up in the microwave.)
Plum and Cherry Sponge Pudding
This sponge pudding also works brilliantly with plums and cherries.
Chop up five plums and put into a pan with a handful of frozen cherries.  Add 2 tbsp lemon juice and a squirt of sugar-free syrup.  Leave to simmer for 10 mins.  Divide the fruit into 4 small ovenproof bowls and top with the sponge mixture.  Bake on 180C for 20 minutes.  Enjoy!