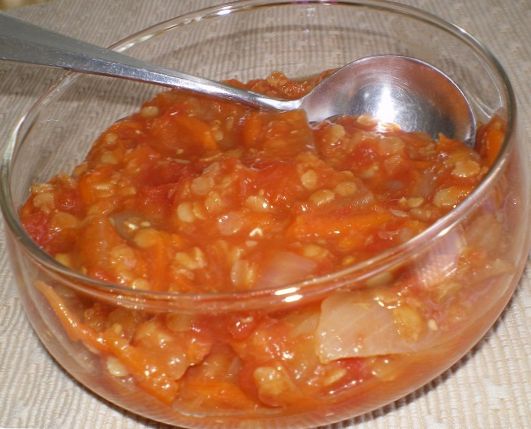 As the days draw in, and the weather begins to cool down, it's time to introduce soup into my weekly menu plans.  Here's the first one of the season – free on No Count or 1 point per serving if tracking.  Hubby really loved this one!
Ingredients (serves 4):
150g dried split peas
100g split red lentils
400g tin chopped tomatoes with herbs
a tbsp olive oil (from daily allowance)
800ml vegetable stock
2 tsp dried mint
2 garlic cloves, crushed
a red onion, blitzed in food processor
Method:
Cook the onion and garlic in the olive oil for a couple of minutes – use a saucepan with a lid.
Add the rest of the ingredients and season well.
Cook for an hour to an hour and a half, stirring occasionally. You might need to add a little more water if needed.
You can serve the soup as it is, or blend it to produce a smoother soup.
Served here with bacon medallions on brown sandwich thins, with Aldi lighter than light mayonnaise – all free on No Count.