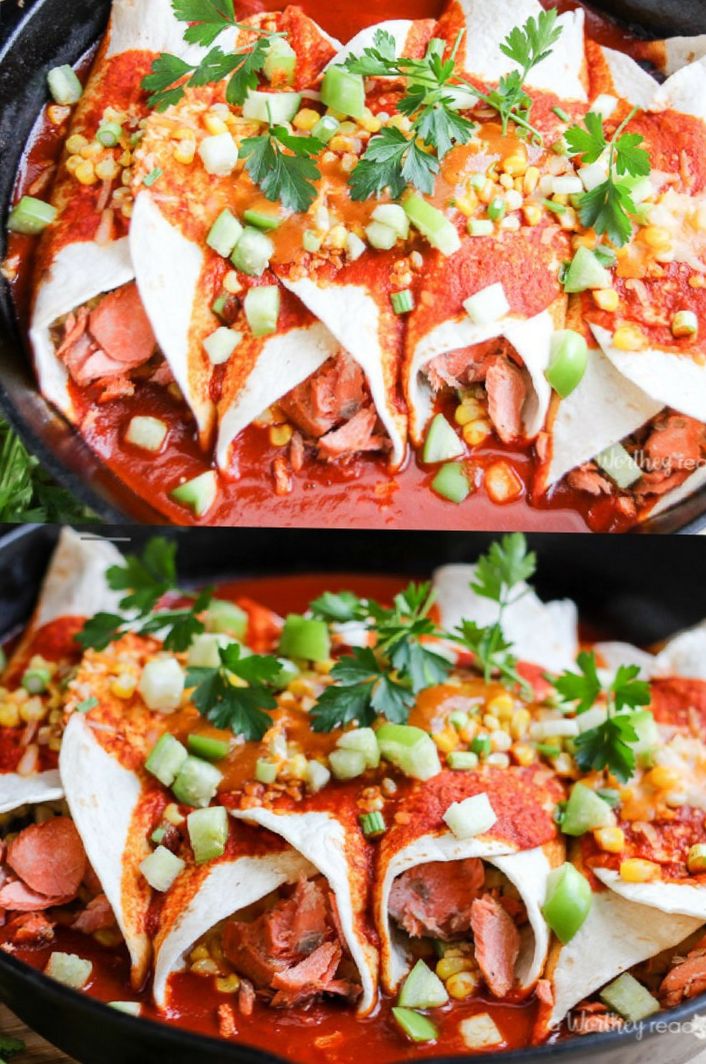 I decided to make these a while ago and finally got around to doing so last night.  I love salmon and this recipe makes a fabulous dinner which is also extremely filling!  Hubby and mum gave them the thumbs up and couldn't believe they were nearly No Count!  The whole recipe (all 4 of them) is 2 points on No Count so it's up to you whether you use one of your weeklies or not for this meal.  On WW Flex, each enchilada would be 5 points.
Ingredients (serves 4):
4 salmon fillets, cooked
4 WW wraps
1 tbsp olive oil (from daily allowance) use a calorie-controlled spray if following WW Flex
an onion, finely sliced
2 garlic cloves, crushed
500g passata
a tsp mixed herbs
20g chilli pesto
4 tbsp Yeo Valley 0% crème fraiche
2 handfuls of spinach
50g Protein cheese, grated
Method:
Pre-heat the oven to 180C.
Heat the olive oil in a pan and add the onion. Fry for about 5 minutes before adding the garlic and cooking for a further minute.
Add the passata, mixed herbs and chilli pesto. Season to taste and simmer for 5 minutes.
Put about a quarter of this sauce in an ovenproof dish.
Fold the spinach into the crème fraiche and season to taste.
Place the wraps open on your worktop and share the crème fraiche mixture between the four of them. Place the crème fraiche down the middle of each wrap and then place the salmon on top.
Roll each wrap up and place them on top of the sauce in the ovenproof dish.
Cover the wraps with the remaining sauce and sprinkle the cheese over the top.
Bake in the oven for a further 15 minutes.
Serve and enjoy!
Served here with roasted vegetables.