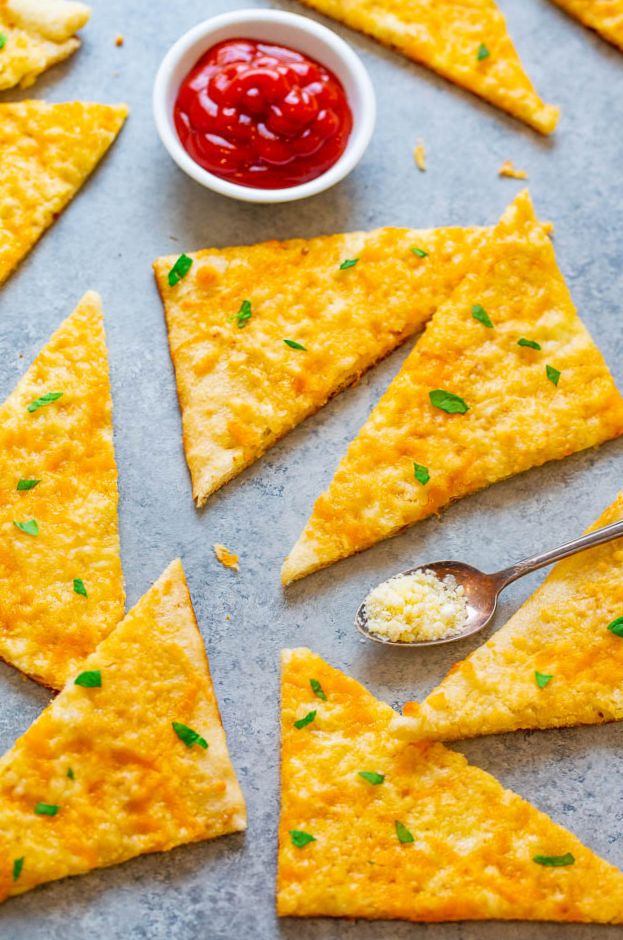 I've had a few goes at trying to make some sort of bread with oats but none of them have ever been edible:-)  However, I decided to give it one more try this week, as I really fancied some garlic bread to go with my soup, and I was pleasantly surprised with the outcome – adding the garlic has made all the difference. I will definitely be making this again, and hubby enjoyed it too, but it might not be to everyone's taste.  If you try it, I'd love to hear what you think.
(The whole recipe works out at 10sp if tracking.)
Ingredients (serves 2 people):
100g oats, blitzed in food processor (or you can use oatmeal)
100g low fat natural yogurt (use 0% if tracking)
½ tsp salt
½ tsp baking powder
1 tsp garlic puree or 2 garlic cloves, crushed (you can adjust this amount to taste)
10g plain flour for rolling out the 'dough' (5g per person is free)
Frylight, or a similar alternative, for cooking
Method:
In a bowl, mix the yogurt, salt and garlic together.
Mix the oats with the baking powder before pouring into the yogurt mixture. Stir until it's all mixed together and you can form this 'dough' into a ball using a spoon.
Sprinkle the flour onto a pastry board and put the dough on it.
You now have two options:
Using a knife, cut the dough into four pieces and roll each one out. You do need to make sure the rolling pin has flour on it as the dough can be very sticky.  Place the four pieces into a frying pan that has been sprayed with Frylight, and cook on both sides for a couple of minutes.  Once cooked, I cut two of the pieces into triangles purely for aesthetic purposes. J (See the first photo above.)
Alternatively, you can split the 'dough' into about 10 pieces and roll each of them out into thin strips, in your hands. Place the strips into the frying pan and cook them on both sides for a couple of minutes.  As I turned them over, I did flatten them slightly with a spatula. (See the second photo above.)
I'm looking forward to trying these with the hummus and beetroot dips which can be found at: lovingnocount.com/bruschetta-and-dips/
NB: If you haven't read the information about blitzed oats, please do so.  It's on the FAQ page under the 'No Count Explained' section.
You can use 10g plain flour to help roll the dough out – this is the tricky bit so make sure you smother the rolling pin with it:-)
I have since made this 'flatbread' using oatmeal which is free on No Count and it's just as good taste-wise.  The mixture is even stickier though but I've found that if you mix the ingredients together and leave it to stand for ten minutes, it is slightly easier to flatten into small pieces using your hands – no need for flour and rolling.