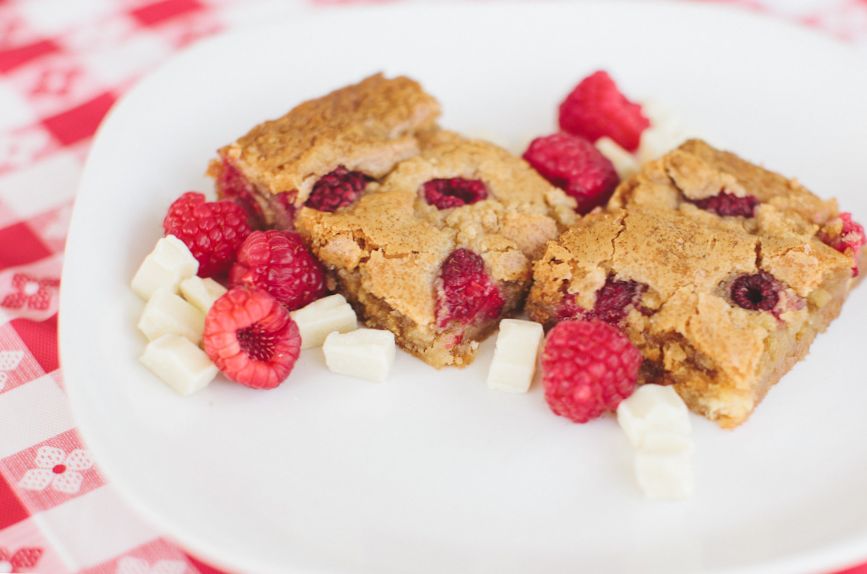 Many thanks to Mands (@mands5781) for this amazing recipe and photograph!
These delicious Blondies (a twist on their brownie cousins) will help you through any late afternoon sugar lull – perfect with a cuppa! They are just 1sp each on No Count or Freestyle.
Ingredients (makes 9):
32g ready oats (eg: Asda Ready Oats/Ready Brek)
13g ground almonds
15g sweetener of your preference
1/2 tsp cinnamon
1tsp baking powder
3 medium eggs
2 ripe bananas
50g fat free natural yoghurt
2tsp vanilla extract
1/2 tsp vanilla bean paste
a pinch of salt
40g raspberries – pulled into halves gently
15g white chocolate chips
10g freeze dried raspberries
Method
Mash the bananas and beat well with the egg yolks, vanilla, sweetener and yoghurt.
Lightly whisk the egg white and fold in.
Add the oats, ground almonds, baking powder, cinnamon and salt and mix well.
Reserve appx 1/3 of the raspberries, freeze dried raspberries and white chocolate chips until the end, and add the other 2/3 into the mix.
Pour into a greaseproof papered brownie tin, and add the rest of the dried and fresh raspberries and white chocolate to the top.
Bake on 180C for 25mins.
Allow to cool in the brownie tin and cut into portions.
Enjoy!