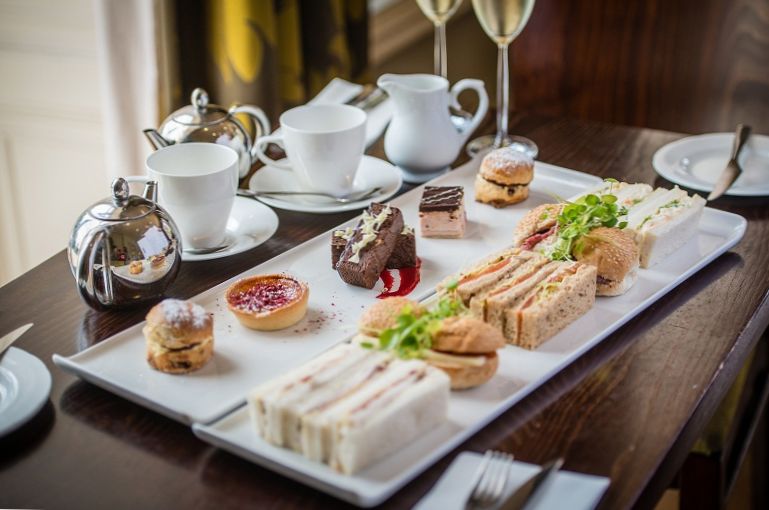 I love creating No Count alternatives for foods I particularly enjoy and an afternoon tea has always been a favourite of mine.  On our recent trip to Devon, we had planned to go out for a cream tea but I decided to make a DIY one instead.  I'd definitely do this again – a super treat without any guilty feelings – and so filling that hubby and I didn't manage to eat it all!
I had six of the finger sandwiches, one quiche, two of the red velvet brownie pieces (which was one brownie cut in half) and one scone – this was just 2sp on No Count!  If following WW Freestyle, it would be about 10sp per person if you had the same amount.
Sandwiches
Take 6 slices of Warburtons medium sliced wholemeal bread and used two slices to make each of these:
wafer thin ham and tomato
egg mayonnaise
tuna and cucumber
I used 2 tbsp of Aldi lighter than light mayonnaise in total on all of the sandwiches (this amount is free).  I also cut the crusts off which I have taken into account when working out the points for WW Flex.
Crustless Quiches
I used the recipe that can be found here: lovingnocount.com/no-count-crustless-quiches/ and added ham and spring onion.
Red Velvet Brownies
I made these the day before and cut each brownie in half.  The recipe can be found here: lovingnocount.com/red-velvet-brownies/
Blueberry Scones
These are a real treat if you haven't tried them yet.  View the recipe here: lovingnocount.com/blueberry-scones/
I made NC cherry jam (using 200g frozen cherries and blackcurrant sugar-free jelly) – lovingnocount.com/no-count-jam/ – to put on the scones as well as Yeo Valley 0% creme fraiche which is free on NC.
All served with a pot of tea.  Perfect!