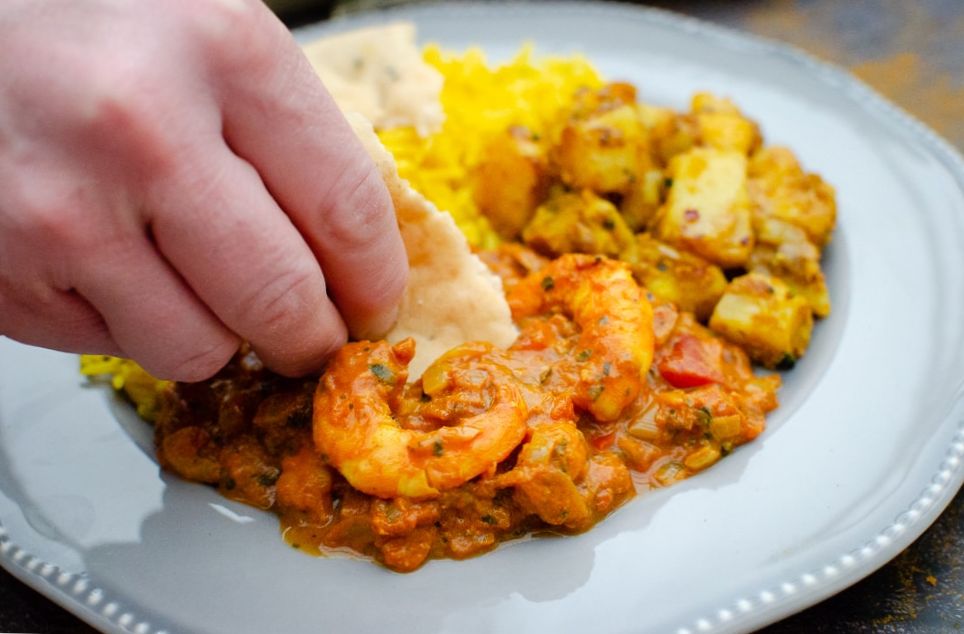 A delicious curry with lots of flavour.  This whole meal is 2 points on No Count and 7 points if tracking (including the rice but not the bread).
Ingredients (serves 4):
1 tsp olive oil
1 red onion, finely chopped
4 garlic cloves, finely chopped,
a tsp fresh ginger, finely chopped
½ tsp turmeric
2 tsp mild chilli powder
2 tsp ground cumin
1 tsp ground coriander
400g tin of chopped tomatoes in herbs
200ml reduced fat coconut milk
150g spinach
400g king prawns
Method:
Heat the oil in a large wok or frying pan. Add the onion, garlic and ginger and cook for a couple of minutes over a low heat.
Add the spices and cook for a further couple of minutes.
Next add the chopped tomatoes and stir through for a couple of minutes.
Add the coconut milk and bring to the boil.
Stir in the spinach and simmer until the spinach has wilted.
Add the prawns and cook for a further five minutes.
Served here with 50g of brown rice (dried weight) and 'garlic bread' – half a brown 'thin' sprayed with Frylight and coated in finely chopped garlic.  Popped in the oven on 180C for 5 mins.
You could substitute the reduced fat coconut milk for unsweetened almond milk to make this free on No Count.