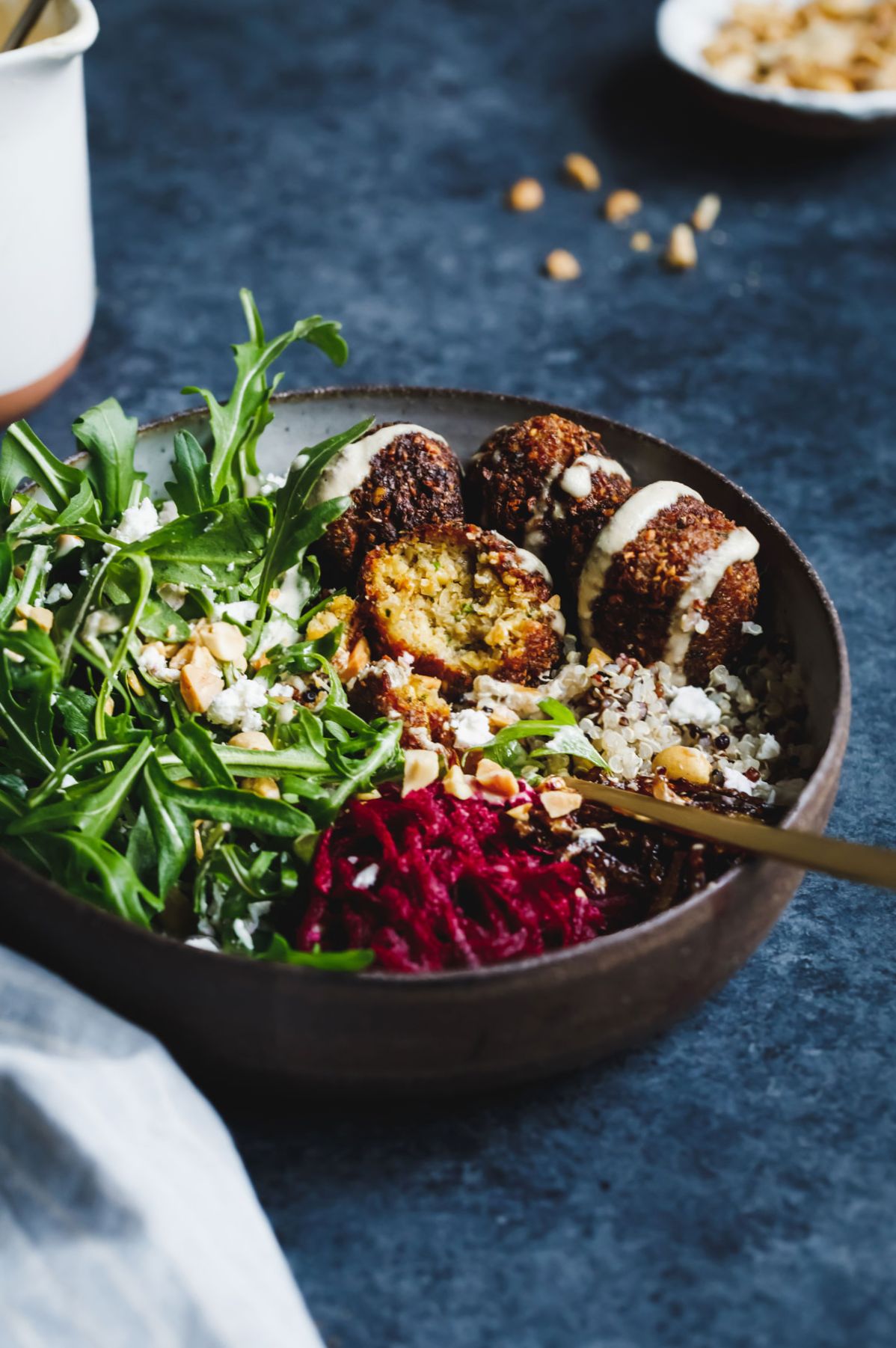 I haven't been tempted to try falafel before but I'm going to try a few more meat-free meals, I am so glad I did!  It's a very filling lunch and so delicious too!  I trawled through the Internet to find a falafel recipe and then combined a few of them although I am aware that this recipe could probably be out there somewhere:-)  It's ideal for days like today!
This salad would be free on No Count, and free on WW Freestyle too if you use a calorie-controlled spray instead of olive oil.
Ingredients for the falafel (makes 10 which can serve 2):
4 tsp olive oil
1 onion, finely chopped
1 garlic clove, crushed
a 400g tin of chickpeas
2 tsp cumin
1 tsp mixed herbs
the zest of a lemon
an egg, beaten
Method:
Heat the oil and fry the onion for a couple minutes, until soft.
Add the garlic and cook for another two minutes.
Drain and rinse the chickpeas and put in a bowl. Use a fork to break them down into smaller pieces (or you can blitz them in a food processor if you'd prefer a smoother falafel).
Add the onion and garlic and mix it all together.
Add the cumin, herbs and zest and mix in. Season to taste and then mix in the egg.
Divide the mixture to make 10 balls and then place on a non-stick, or greaseproof papered, baking tray. Leave in the fridge for half an hour.
Preheat the oven to 180C.
Remove from the fridge, spray with Frylight and bake in the oven for about 20 – 25 minutes. Turn a couple of times to ensure they are cooked all the way through.
I roasted butternut squash and cherry tomatoes at the same time as cooking the falafel, with a bit of paprika sprinkled on the butternut squash.
Served with a mixed salad and a tbsp of Aldi lighter than light mayonnaise.
Enjoy!
(These can be frozen.  Just take them out when you are ready and let them defrost before warming them up in the microwave.)