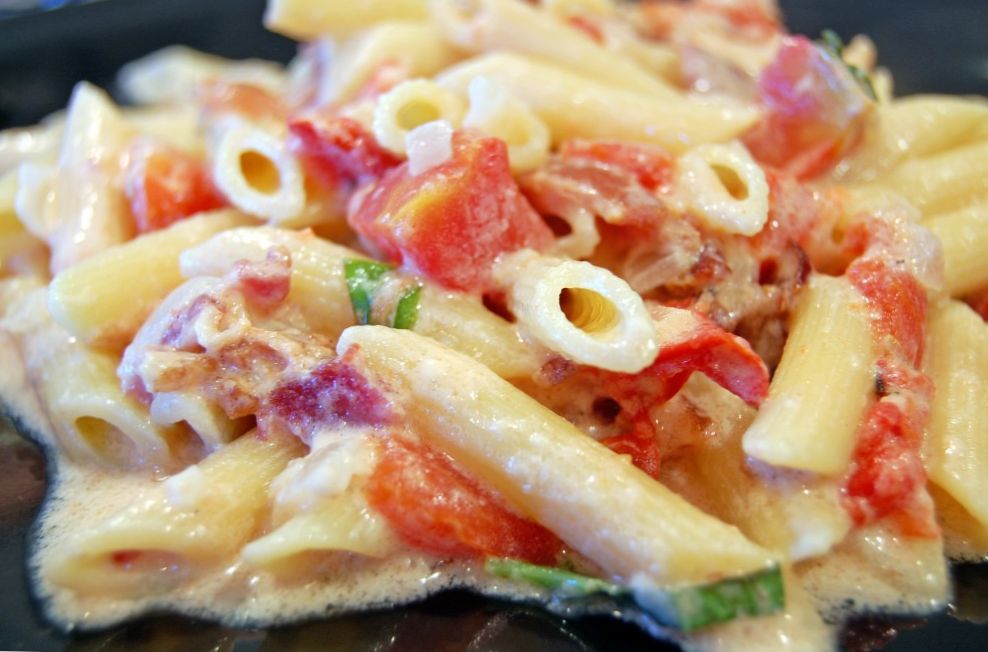 Hi everyone! I made this on Monday – adapting a recipe in this month's WW magazine – 'Tomato and Parma Ham Pasta Bake' – and it was absolutely delicious and well worth trying if you're looking for something new to add to your menu.  It is really quick and easy to make so ideal if you're having a busy day.  You can make it free on No Count by using 25g of grated Protein cheese per person, instead of the feta.  With the feta, it comes in at 1sp per portion on No Count and 10sp per portion if following WW Freestyle.
Ingredients (serves 4):
280g wholewheat fusilli pasta
16 bacon medallions, cut into strips
200g young leaf spinach
a garlic clove, crushed
700g passata
40g feta
270g cherry tomatoes
a tsp mixed herbs
Method:
Cook the pasta in a pan of boiling water.
Meanwhile, pour the passata into a deep frying pan/wok and add the garlic and mixed herbs.  Bring to a simmer before adding the bacon medallion strips and cooking for 5 minutes.
Add the tomatoes and spinach and cook for a further 5-10 minutes.
Drain the pasta and stir this into the tomato/bacon mixture.
Serve immediately and top with cubes of feta cheese.
Enjoy!