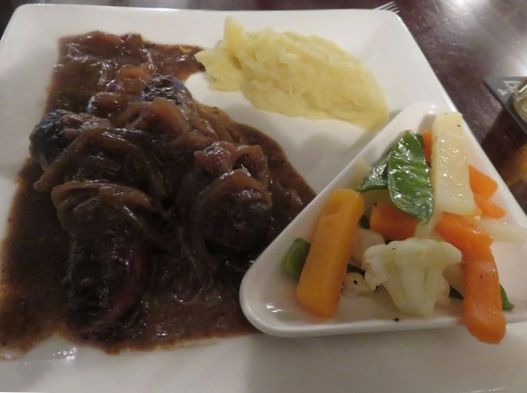 Venison Sausage with Caramelised Onion Gravy
This dinner is 4sp on No Count but a real treat and worth spending those weekly points on!  If tracking, it would be 4sp plus the points for any potatoes you served with it.
Ingredients (serves 3):
6 venison sausages (Tesco Finest are 2 for 3sp)
1 red onion
1 tbsp balsamic vinegar (1sp)
1 tsp Splenda
2 tsp wholegrain mustard
500ml beef stock
2 heaped tsp Bisto (2sp)
Method:
Cook the sausages separately – I did them in the oven.
Peel and slice the onion before cooking it for 5 mins in a wok/deep frying pan sprayed with Frylight.
Add the balsamic vinegar and Splenda and cook for a further 5 mins.
Stir the mustard into the beef stock before pouring over the onions.
Add the Bisto mixed in a little water.
Bring to the boil, stirring occasionally, and let it simmer for 10 mins.
Pour over the sausages.
I served this with new potatoes, carrots, broccoli and cauliflower although it's just as good with mashed potatoes.