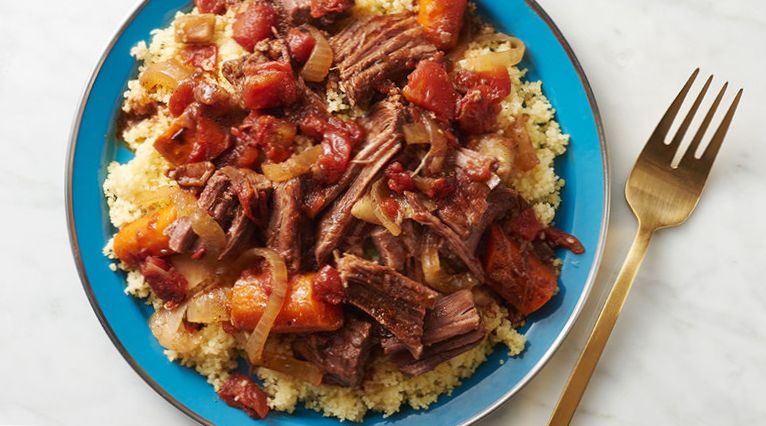 I've made this a few times now and it just tastes better each time I make it.  It's ideal for those cold winter months and an easy one to cook in a slow cooker.  It is free on No Count.  If tracking, you would just need to weigh the beef used as the other ingredients would be 0 points.  You would also need to point what you served it with.
Ingredients (serves 4):
4 beef medallion steaks, cut into chunks
a red onion, thinly sliced
2 garlic cloves, crushed
2 tbsp MyProtein sugar-free maple syrup
1 tbsp harissa paste
1 tbsp ras el hanout
1 tsp cinnamon
400g tin of chopped tomatoes
16 olives, chopped (4 each are free)
Method:
In a bowl, mix the tomatoes, sugar-free syrup, harissa paste, cinnamon, ras el hanout, olives and garlic.
Put the beef in a slow cooker and pour the above mixture over it.
Add the onion, and stir through. Season to taste.
I cooked this on Low for 4 hours (my slow cooker is not that slow).
Served here with bulghar wheat and chickpeas:
200g bulgar wheat
400g can of chickpeas (drained and rinsed)
2 tsp vegetable bouillon powder
2 tsp coriander