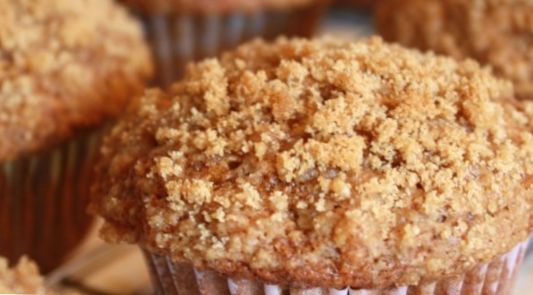 I decided to use the banana cake recipe to make muffins and see what they were like with a crumble topping.  Verdict – delicious!
And at just 1 point each on No Count!  If tracking, they work out at 5 points each.
Ingredients for the muffins (makes 8):
4 large ripe bananas
100g oats blitzed in a food processor
100g oat bran
1/2 tsp baking powder
2 tsp mixed spice
40g Flora light
2 eggs
2 tbsp Myprotein butterscotch sugar-free syrup
a tbsp lemon juice
Ingredients for the crumble topping:
70g oats, blitzed in food processor
50g oats
40g Flora light
2 flat tbsp Splenda
Method:
Preheat the oven to 170C.
Mash the bananas and mix in the 2 eggs, Myprotein syrup and lemon juice.  Set to one side.
In a separate bowl, mix the oats, oat bran, mixed spice and baking powder.
Rub in the Flora with your fingers.
Pour the banana mixture into this bowl and stir together.
Make the crumble next by placing all the oats in a mixing bowl.
Add the Flora and rub in with fingertips.
Sprinkle over 2 tbsp Splenda and mix together.
Spoon the banana mixture into muffin cases and then put some of the crumble mixture on the top of each one.
Bake in the oven for 40 – 45 mins, and enjoy!
Served here with low fat natural yogurt and blueberries.
NB: I used paper muffin cases for a change but they would be better in a silicone muffin tray.