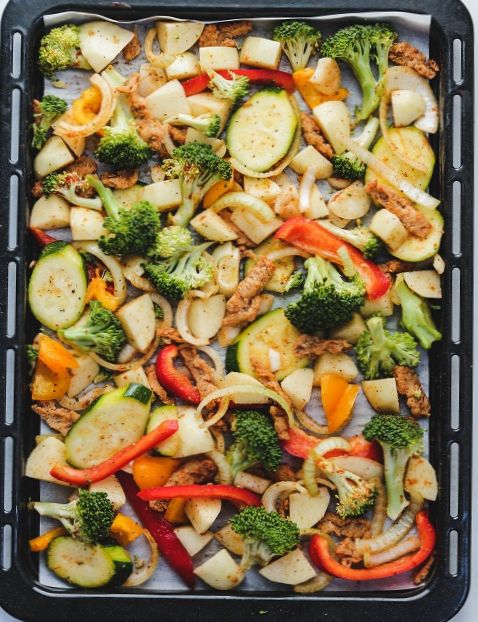 I really enjoy any roasted vegetables, they're full of flavour – the cheese and olives work well with them too.  This recipe is just 1 point per serving on No Count or 2 points per serving if tracking.
Ingredients (serves 4):
4 chicken breasts
250g new potatoes, halved
2 courgettes, sliced
2 onions, cut into chunks
3 peppers, cut into chunks
3 garlic cloves, crushed
a pack of cherry tomatoes
130g Protein cheese, grated (2 points)
20 olives, sliced (2 points)
Method:
Cook the chicken in an oven dish, wrapped in foil, for 20 minutes at 180C.
Meanwhile, put the potatoes, onion, courgettes, peppers and garlic in a large oven dish. Spray with Frylight and season well.
Put the vegetables into the oven, on a shelf above the chicken, and cook both for 30 minutes.
Take both dishes out of the oven. Unwrap the chicken and place it on the vegetables.  Put the olives on the chicken and sprinkle on the cheese.  Add the tomatoes to the dish too.
Cook for a further 10 – 15 minutes.
Serve and enjoy!
The cooking times can vary depending on how big your oven dish is.  If the vegetables are very squashed together, they will need turning over and moving around in order to ensure they are cooked all the way through.