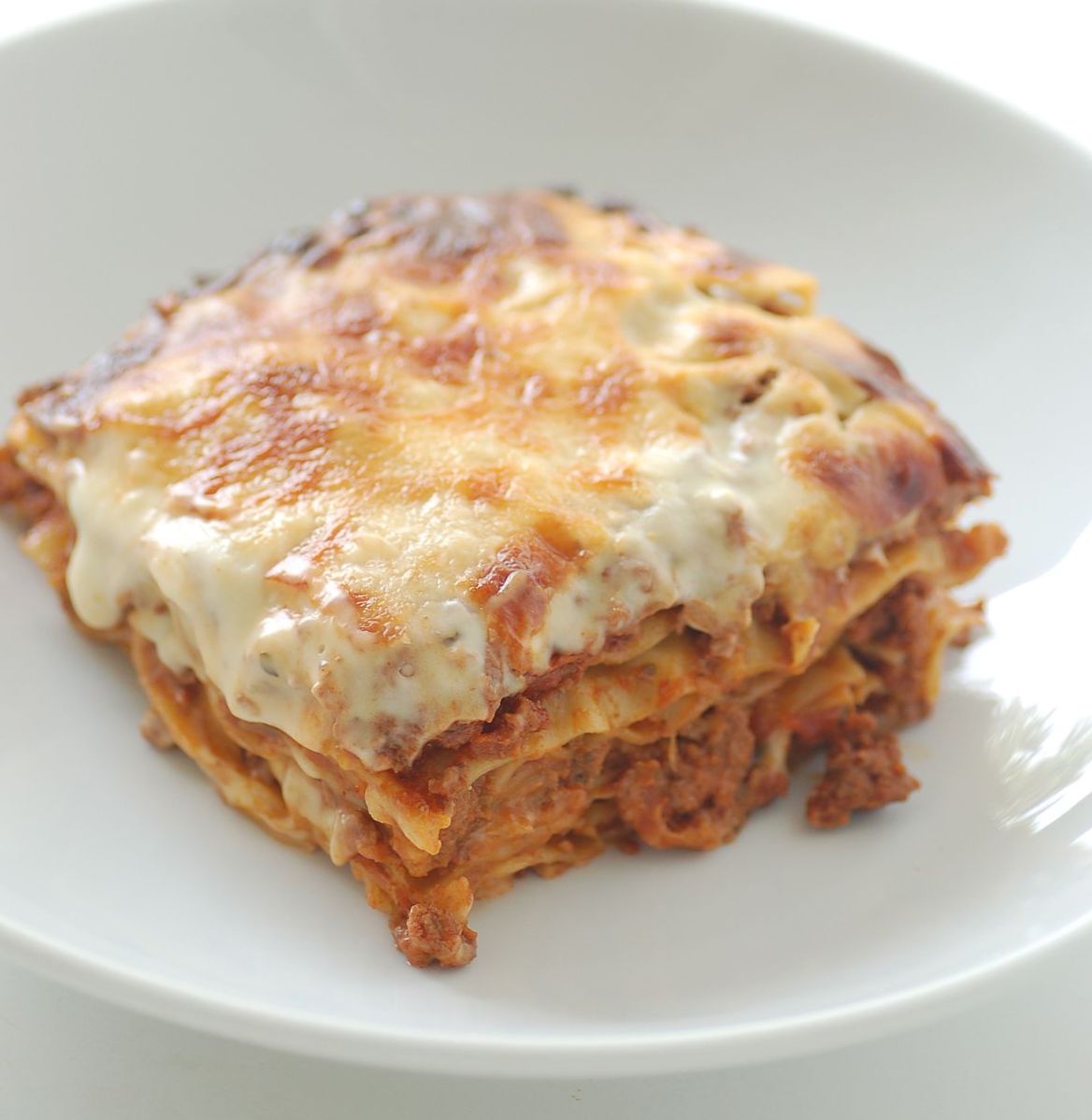 A classic dish, with a recipe adapted by @armyannie, a fellow WW no counter and member of Connect.  Thank you – it's absolutely delicious!
It is 1 point on No Count and 12 points if tracking.
Ingredients (serves 4):
150g wholewheat lasagne sheets
100g Protein cheese
1 tsp olive oil
500g 5% fat beef mince
an onion, finely chopped
2 celery sticks, finely chopped
2 carrots, finely chopped
4 garlic cloves, chopped
400g chopped tomatoes
2 tbsp tomato puree
400ml beef stock (using a beef stock cube)
2 tsp oregano
400ml skimmed milk
a tsp cracked peppercorns
a handful of fresh parsley
2 flat tbsp cornflour
1 tsp Dijon mustard
Method:
Pre-heat the oven to 180C (fan oven 160C).
Brown the mince and set to one side.
Add the oil to a large frying pan/wok and fry the onion, carrots and celery. Cook on a low heat for a couple of minutes.  Add the garlic and cook for a further couple of minutes.
Add the browned mince to the pan with the chopped tomatoes, tomato puree, oregano and beef stock. Bring to the boil and simmer for about 30 minutes.  Season to taste.
While the mince and veg are simmering, make the white sauce. Put the milk in a saucepan with the parsley and cracked peppercorns.  Bring to the boil slowly, then remove from the heat and set to one side for ten minutes to allow the flavour of the herbs to seep into the milk.
Sieve the milk to remove the herbs and return the milk to the pan.
Mix the cornflour with a bit of cold water and mix into a paste. Add a splash of the warm milk to the paste and stir.  Now pour this mixture into the pan of milk.  Slowly bring to the boil, stirring, until the mixture has thickened.  Remove from the heat and stir in the mustard – season to taste.
Layer the meat, pasta and white sauce in an ovenproof dish – meat then pasta then white sauce, making sure that the final layer is white sauce.
Scatter the Protein cheese over the top and bake in the oven for about 45 mins. Enjoy!