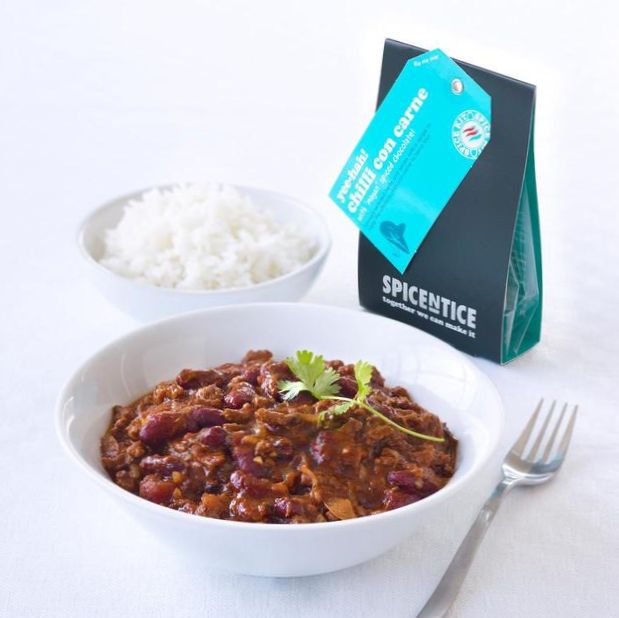 This has to be one of my favourite SpiceNtice meals yet and even though there's a chilli recipe of my own on the website, I still like to try different flavours.  The whole recipe (for 4 people) works out at 2 points so you would have to decide whether to use one of your weeklies or not.  If following WW Freestyle, you would also need to add the points for the meat you used.
Ingredients (serves 4):
Chilli con Carne SpiceNtice pack – this includes 3 different sachets of ingredients
500g 5% fat minced beef
2 onions, finely chopped
3 garlic cloves, crushed
400ml tin of chopped tomatoes
400g tin of kidney beans, drained and rinsed
3 tbsp tomato puree
1 tbsp lime juice
220ml beef stock
2 tbsp olive oil (use a calorie controlled spray if following WW Freestyle)
1 tsp salt
1/2 tsp sweetener
(I've slightly amended the quantities of some ingredients to make the recipe fewer points.)
Method:
Heat the oil over a medium heat and add the contents of Sachet 1.  Fry for a few seconds before adding the onions.
When the onions start to caramelise, add the garlic and fry for another minute.
Stir in the minced meat and cook for 10 minutes, stirring occasionally.
Add the tomatoes, salt, sweetener and Sachet 2. Stir.
Add the tomato puree, lime juice and kidney beans.  Stir through and cook for another 5 minutes.
Stir in the stock and the chocolate in Sachet 3.
Cook with a lid on for 15 – 20 minutes.
Season to taste and serve.