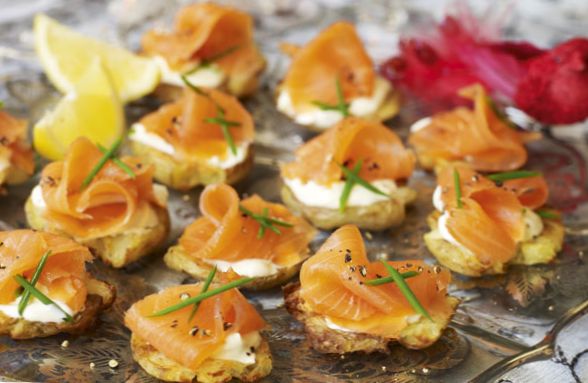 I amended this recipe from one I found in a magazine.  It made a delicious, light dinner but was still very filling.  It was full of different flavours and definitely one I'll be making again.  The whole meal is free on No Count and 13 points if tracking.
Ingredients (serves 2):
350g new potatoes (raw weight)
2 salmon fillets
120g frozen peas
80g king prawns
4 spring onions, finely sliced
200ml Yeo Valley 0% crème fraiche
1 tsp Dijon mustard
1 tsp dill
1 tbsp capers, chopped
4 tsp olive oil (from daily allowance)
a lemon, to serve
Method:
Preheat the oven to 180C.
Cook the potatoes in boiling water, drain and lightly crush with a fork.
Meanwhile, bake the salmon in the oven for about 20 minutes, until cooked through.
Heat 2 tsp of oil in a frying pan/wok and add theking prawns. Fry for a couple of minutes before adding the potatoes and peas.  Season to taste.  Cook for another couple of minutes to allow the peas to defrost.
Heat the remaining 2 tsp oil in a separate frying pan. Add the spring onions and cook for a few minutes until tender.  Add the mustard, capers and dill before stirring through the crème fraiche.  Season to taste. (Take care not to overheat the crème fraiche or it will curdle.)
Optional – garnish with the lemon when serving.