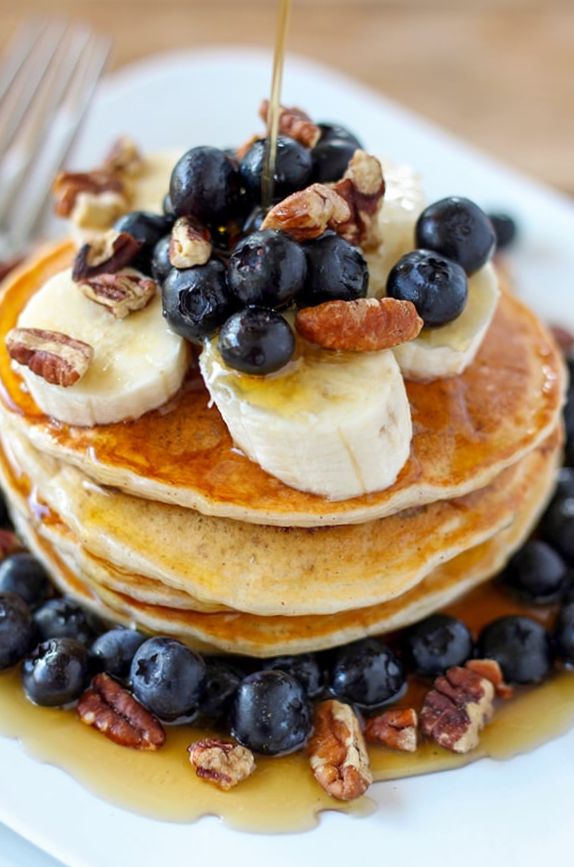 These pancakes use the traditional pancake recipe but I've replaced flour with blitzed oats and added some vanilla extract to sweeten them a bit.  Using oats can make them a bit trickier to cook so I'd suggest using your daily oil allowance for this.
No Count: Free
If you are following WW Freestyle, you'd be better replacing the oats with plain flour and using Frylight.  The points would then be:
WW Freestyle: 4sp per serving
(The photo shows one serving.)
Ingredients (serves 4):
100g oats
3 eggs
300ml skimmed milk
pinch of salt
a tsp vanilla extract
Method:
Blitz the oats in a food processor.
Whisk the eggs and milk together and pour into the oats; add the salt.
Whisk all the mixture together.
Heat oil/Frylight in a frying pan and pour in a quarter of the mixture.
Turn once while cooking.  (I find it easier to cut the pancake into quarters before turning each one over separately – if using oats.)
It's best to stir the mixture before pouring out for another pancake.
Served here with fresh fruit, low fat natural yogurt and a drizzle of sugar-free syrup. (If following WW Freestyle, use fat-free natural yogurt for 0sp.)
Enjoy!