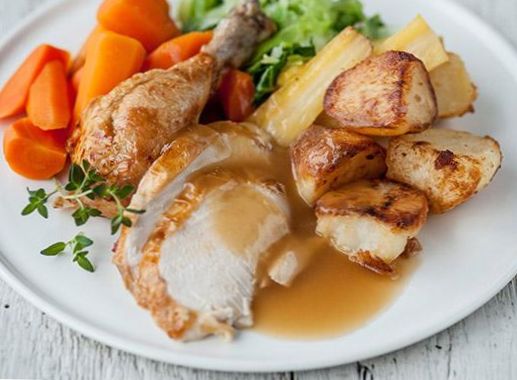 This is always a favourite in our house and at just 1 point, on No Count, it's a meal we enjoy quite often – especially during the colder winter months.
(Unfortunately, I haven't been able to work out the points for the whole meal if tracking as it would depend on the weight of the potatoes.)
No Count Yorkshire Puddings
These are free on No Count or 2 points each if tracking.
Ingredients (makes 8):
100g oats, blitzed
3 eggs
300ml skimmed milk
a pinch of salt
Method:
Pre-heat the oven to 180C.
Put the oats and pinch of salt in a bowl.
Whisk the eggs and milk together and pour into the oats.
Whisk all the mixture together.
I used a couple of silicone muffin trays to pour the mixture into, so that the puddings don't stick.
Cook for about 40 – 45 minutes.
Quick Chicken Gravy (1 point):
Mix 3 heaped tsp Bisto with a little water.  Add to 400ml chicken stock (made with a chicken stock cube) and heat, stirring continuously.  Once boiling, take off the heat and serve.
Mashed Potatoes
Mash cooked potatoes with a tbsp 0% Yeo Valley crème fraiche, a splash of skimmed milk and season well.
All served with roast chicken (light meat) and a selection of vegetables which are free on No Count.