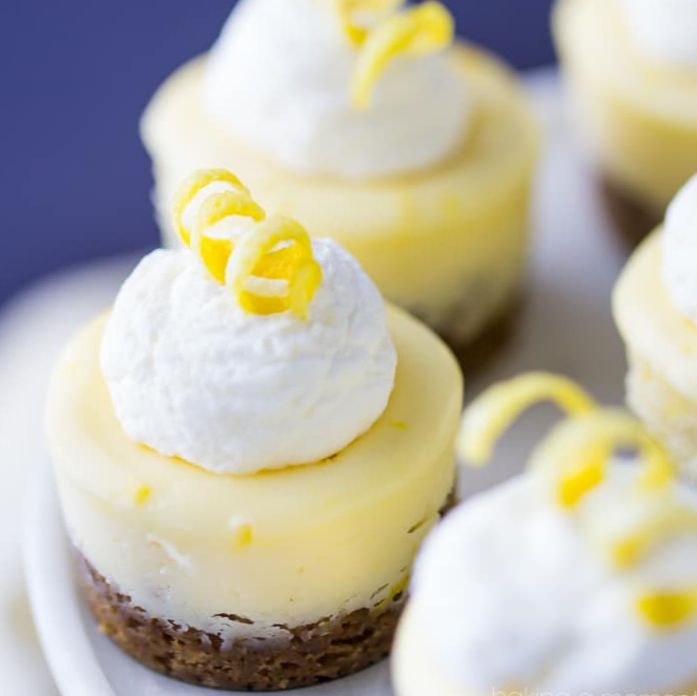 Cheesecake remains a favourite dessert of mine so I'm always on the lookout for a new recipe to try. I adapted a WW recipe (Raspberry and Ginger Cheesecake) to make these mini cheesecakes which are 1 point each on No Count.  They make a delicious dessert but do take quite a while to make as, with No Count, you have to bake the NC biscuits before you can then use them in a cheesecake.
If following WW Freestyle, they are 4 points each.  You could use a different base to reduce the points – the topping is just 1sp per portion.
Ingredients (makes 6 – 8):
85g Mornflake oatmeal
80g blitzed oats
2 flat tbsp Splenda/Truvia/Natvia/Canderel
a pinch of salt
a pinch of bicarbonate of soda
1 tbsp olive oil (from daily allowance)
the zest and juice of two lemons
1 tsp nutmeg
1 tsp mixed spice
2 or 3 tsp ground ginger (depending on how gingery you like them)
180g Philadelphia lightest (6sp)
300g Skyr natural yogurt or 0% Total yogurt or Yeo Valley 0% crème fraiche
1 tbsp Myprotein sugar-free maple syrup
2 sheets fine leaf gelatine
24g Flora light (4g per person is free)
fruit to decorate
Method:
Pre-heat the oven to 180C.
Mix the oatmeal, oats, Splenda, lemon zest from one lemon, salt, nutmeg, mixed spice, ginger and bicarbonate of soda in a bowl.
Stir in the oil, lemon juice from one lemon and 50ml hot water.
Divide the mixture into six pieces and flatten with your hands.  (These shapes will be crumbled once cooked so it doesn't matter what they look like.)
Bake in the oven for 15 minutes before taking out and allowing to cool.
Once cooled, put the 'biscuits' in a bag and crush into crumbs with a rolling pin.
Melt the Flora and mix with the crumbs.  Share the mixture out between 6, 7 or 8 small dishes.  (I used empty Gu dishes that I'd saved.)  Press the mixture firmly down and get it as level as you can.  Chill in the fridge for an hour.
Soak the gelatine in cold water for a few minutes until it has softened.
Meanwhile, mix the yogurt or crème fraiche with the Philadelphia.  Stir in the zest and juice from the remaining lemon and the sugar-free syrup.
Squeeze the excess water from the gelatine and place it in a pan.  Melt over a low heat while stirring continuously.
Remove from the heat and whisk in two tbsps of the soft cheese mixture.  Then pour this back into the remaining soft-cheese mixture and stir it all together.
Spoon this mixture over the biscuit base and chill for a couple of hours, until it is firm.
Decorate with fruit and serve.
NB:  Please see the information about blitzed oats in the FAQ section, if you haven't already done so.
(The biscuit base is a bit crumbly but it perfectly complements the lemon topping.)