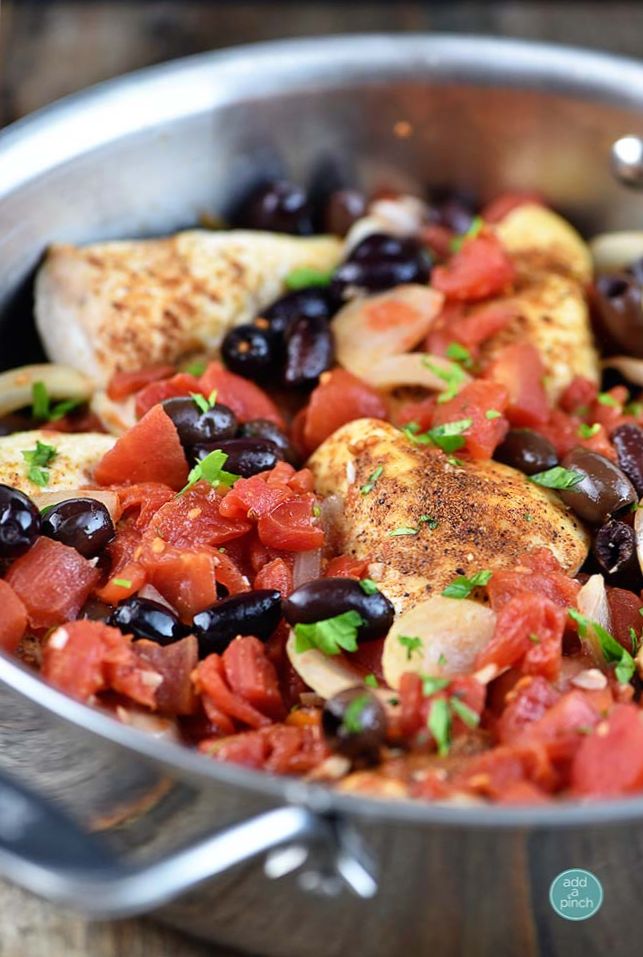 I've only developed a taste for olives in the past couple of years, so like to include them in recipes where I can – and use one of my weekly points in doing so:-)  This is a very quick and easy to make dish: just 1 point on No Count (for the whole meal) and 1 point if tracking (not including the potatoes and veg mash).
Ingredients (serves 4):
4 chicken breasts
2 small onions or 1 large one, peeled and finely chopped
3 cloves of garlic, crushed
750g fresh baby plum tomatoes
95g pitted olives
200ml chicken stock
2 level tbsp tomato puree
a tsp of mixed herbs
Method:
Pre-heat the oven to 180C.
Put the chicken breasts in a casserole dish and add the onion, garlic, olives and tomatoes.
Mix the tomato puree with the stock and pour into the casserole dish.
Sprinkle in the mixed herbs and season.
Cook for 40 minutes with the lid on, then stir and put back into the oven without the lid for a further 30 minutes.
Served here with roasted new potatoes and cauliflower and broccoli mash (I added a tbsp of 0% Yeo Valley creme fraiche and seasoning).